Equipment
Over the years, United Tool and Engineering, Inc. has maintained a technological advantage by continually updating, replacing and adding the equipment necessary to service our customers' needs in the most cost-effective and productive manner.
Today, United Tool employs state-of-the-art CNC lathes, vertical machine centers, horizontal boring mills, and wire EDM cutting equipment.  These manufacturing systems are controlled by SmartCam® or Esprit® computer-aided manufacturing (CAM) systems.
Manufacturing and CAM systems are networked through a Spectrum® direct numerical control (DNC) system to routinely produce complex jobs requiring a high degree of tolerance control and total quality.
Our Equipment
CNC Boring Mills
Toshiba #BTD-11ER-16, 5" Spindle, 78" X 59" X 57" Travels with 40 Tool ATC and 55" X 63" Built in Rotary Table
Nomura #BN-110WR, 4 ½" Spindle, 78" X 60" X 50" Travels with 40 Tool ATC and 55" X 63" Built in Rotary Table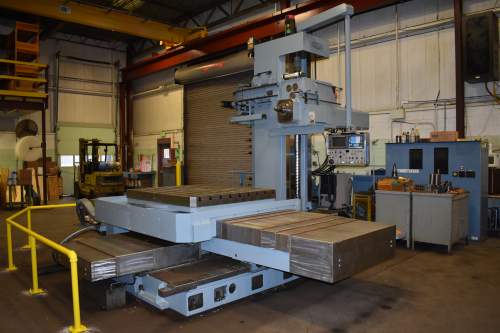 Nomura #B-100SP, 4" Spindle, 84" X 50" X 38" Travels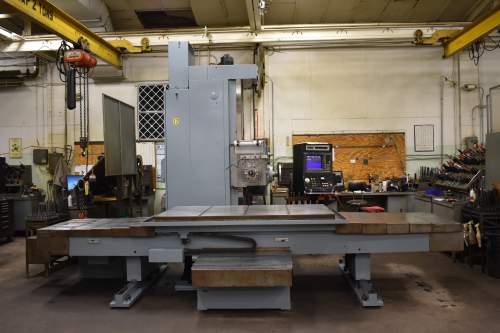 Nomura #B-100LP, 4" Spindle, 72" X 50" X 24" Travels (2)
Manual Boring Mills
Giddings & Lewis #D47, 5" Spindle, 108" X 78" X 84" Travels with Digital Readouts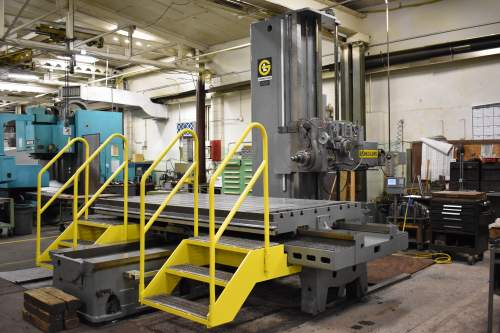 Nomura #B-85-BT, 3" Spindle, 56" X 40" X 24" Travels with Digital Readouts
CNC Vertical Machining Centers
Mazak #V15N, 60" X 24" X 22" Travels with 40 Tool ATC
Hurco #BMC-4020HT, 40" X 20" X 24" Travels with 24 Tool ATC (2)
Hurco #BMC-30-HT, 30" X 18" X 19" Travels with 24 Tool ATC
Milltronics Partner #IE, 24" X 16.5" X 19" Travels with 12 Tool ATC (3)
Acer #2-AHS, 29" X 14.5" Travels (6)
Manual Mills
Bridgeport Vertical Mill, 42" X 12" Travels with Digital Readouts (4)
Jig Bores
Pratt & Whitney #4E, 58" X 27" Travels with 48" Diameter Built in Rotary Table and Digital Readouts
Pratt & Whitney #3E, 48" X 24" Travels with Digital Readouts
Drill Presses
Cincinnati Bickford #SE-97, Radial Drill with 6' Arm and 12" Spindle Travel
Caser #40-1250, Radial Drill with 4' Arm and 12" Spindle Travel
Clausing, Variable Speed Drill Press
Wilton Strand, Variable Speed Drill Press  
CNC Vertical Turning Center
Toshiba #TUE-15, 72" Swing X 36" Travel with 12 Tool ATC and Grinding Attachment
CNC Turning Centers
Mazak #M-5, 24" Swing Over Bed and 13" Swing Over Cross Slide X 80" Travel
Mazak #M-4, 22" Swing Over Bed and 11" Swing Over Cross Slide X 60" Travel
Mazak #QT-250, 16" Swing X 18" Travel
Manual Lathes
Ryzan #1M636, 24.5" Swing Over Bed and 14.25" Swing Over Cross Slide X 120" Travel with Digital Readouts
Dainichi #DLG-SHB, 24.5" Swing over Bed and 15.25" Swing Over Cross Slide X 63" Travel with Digital Readouts and Grinding Attachment
Okuma #LS, 21" Swing Over Bed and 12.5" Swing Over Cross Slide X 59" Travel with Digital Readouts
Victor #1660, 15" Swing Over Bed and 8.25" Swing Over Cross Slide X 60" Travel
Maximat #V13, 13" Swing Over Bed and 7.5" Swing Over Cross Slide X 40" Travel
Rotary Grinder
Blanchard #No. 22, 48" Diameter X 24" Height
Surface Grinders
Mattison, 72" X 18" X 24" Travels
Thompson, 24" X 8" X 12" Travels
M.H.T. #205M, 18" X 8" X 15" Travels (2)
Reid, 18" X 6" X 12" Travels (3)
Boyar Schultz #H612, 12" X 6" X 12" Travels
O.D. / I.D. Grinders
Kellenberger #U1500, O.D. / I.D. with 18.5" Swing and 56" Travel
Heald #72A, O.D. / I.D. with 20" Swing and 20" Travel and Magnetic Chuck
Tos #BU28, O.D. with 11.5" Swing and 40" Travel
Brown & Sharpe #5, O.D. with 3.5" Swing and 15" Travel
Jig Grinders
Moore #G18, 18" X 12" Travels
Moore #2, 17" X 11" Travels
CNC Wire EDM
Sodick #VZ300L, 14" X 10" X 8.5" Travels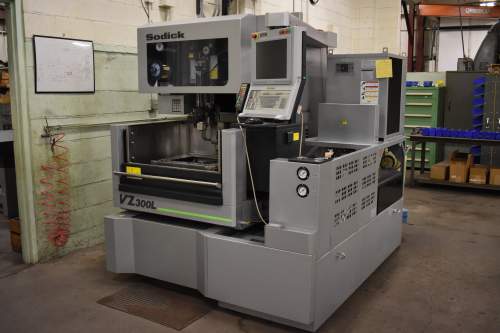 Saws
Doall, Precision Contour Band Saw
Marvel , Universal Vertical Band Saw
Wellsaw, Cutoff Saw
Tryout Presses
Rouselle, 150 Ton with 36" X 72" Bed and 10" Stroke
Clearing USI, 1000 Ton with 72" X 108" Bed and 20" Stroke
Inspection
Faro, Laser Tracker
Granite Surface Plate, 60" X 120
Granite Surface Plate, 70" X 96"
Granite Surface Plate, 24" X 36" (3)
Mitutoyo, Height Gage, 40"
Mitutoyo, Height Gage 12"
Starrett, Height Gage 12"
Webber, Bar Gage 36"
Miscellaneous
Sunnen Hone, #MB1290
Glass Bead and Sand Blasters
Miller, #251 Millermatic Wire Welder
Miller, #256 Syncrowave Tig Welder
Handling
Overhead Crane, 10 Ton Lift Capacity
Overhead Crane, 5 Ton Lift Capacity (5)
Overhead Crane, 3 Ton Lift Capacity
Overhead Crane, 2 Ton Lift Capacity (8)
Forklift, 25 Ton Lift Capacity
Forklift, 10 Ton Lift Capacity
Forklift, 6 Ton Lift Capacity