Company Profile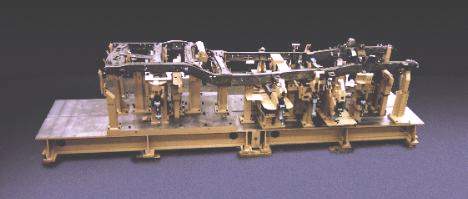 From its inception in 1972, United Tool and Engineering, Inc. has grown from a 23,000 square-foot tool and die shop to a first-class precision tooling company with 42,000 square feet of Design, Engineering and Manufacturing space.
By growing our business to proactively meet the changing needs of our customers, delivering consistent quality and providing outstanding customer service, United Tool has earned the position as "preferred provider to many major companies in a diverse customer base."
United Tool and Engineering, Inc. builds complex dies, multiple-use fixtures and special machines for use in the Heavy Equipment, Agricultural, Mining, Appliance, Aircraft-Aerospace and Automotive industries. Our proven competency in complex surface machining, CNC boring mills and their associated CAM systems, as well as a 1000-ton press for tryout of large frame component dies, has given us a unique competitive edge in producing "large-frame tooling" for automotive OEM's.
The consistent quality, on-time delivery and superior performance that have formed United Tool's impressive history are also vital contributors to our future success.  At United Tool and Engineering, Inc., we are committed to continued excellence in all aspects of our business.
United Tool and Engineering, Inc. takes  great pride in our substantial investment in the facilities, equipment and quality programs necessary to meet customer needs, but no company can be successful without the efforts of its greatest resource - its people.
At United Tool, commitment to quality and the desire to provide outstanding customer service are a total team effort.  Although our employees receive ongoing training and the educational classes required to maintain their highest possible level of proficiency in their positions and job functions, we expect even more.
Management's philosophies encourage and promote individual excellence within the team concept throughout the organization and, through profit-sharing, gives United Tool employees a vested interest in performing to the best of their ability in all aspects of their job.
Implementation of these concepts at United Tool and Engineering has consistently produced high productivity and quality for our customers.